---
Knights player again proves the NRL has a tough sell that their players care about the game.
Either he is trolling above the level of a 14 -year-old boy in the comments section on YouTube, or Darius Boyd has a severe phobia of microphones.
The NRL fullback has again made headlines, ironically, for acting like a deaf-mute, as he blanked Channel 7 reporter Jennifer Huxley regarding the developing story regarding his coach Wayne Bennett is leaving the Knights.
How Boyd, an eight-year veteran of the NRL treated the media again is a disgrace and only underlies how much of a tough sell the competition has to fairweather fans that their biggest names are not a bunch of meatheads.
Here you have a player who has played 21 games for his state, 17 for his country and as of Wednesday night is among the try-scoring elite in State of Origin games and much of what he will be remembered for are his "stand-up interviews".
Some Boyd supporters will claim he does not like the media, that they are intrusive, and will shout from the rooftops "why should he answer their questions" or "he's a quiet bloke that keeps to himself."
He needs to speak to the media because he signed a six-figure deal with an NRL club and it is written into his contract to promote the game.
Promote it by giving a quick soundbite to a reporter doing her job and therefore continue the news cycle on what is one of the biggest stories of the NRL season.
He doesn't need to go away for an hour, write something that would be worthy of a Presidential inauguration, no.
A simple, "it's a shame and I'm really going to miss him and what he brings to the team."
See Darius it's not that hard.
If it were fanatix having the latest run-in with Boyd we would be half-tempted to ask the Maroons winger even the easiest of questions just to see if we could get more than one word answers.
"Darius do you like puppies?"
"Maybe, I'm just trying to enjoy an Origin win."
"But Darius do you want some money out of my wallet?"
"I'm just trying to enjoy a good Origin win"
Of course we go to the ridiculous length here, but it proves a point, there would have been nothing Huxley could have asked Boyd that would have got an answer – which is simply not good enough.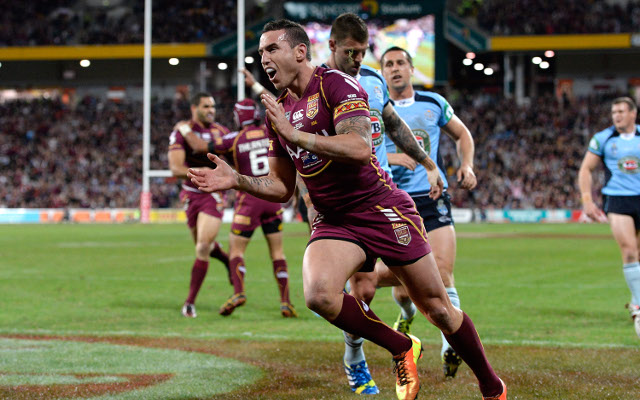 However, it should not come as a surprise of the level of childishness and idiocy on display from Boyd as it is hardly the first time he has thumbed his nose at the media.
For Origin III the official game program featured a story on Boyd – without a single quote from the subject.
In 2009, playing then for the St George Illawarra Dragons, a 22-year-old Boyd was asked about the prospect of playing his former club the Brisbane Broncos, a run-of-the-mill question that fanatix has asked before and will again and is assumed players have a stock answer for up their sleeve.
Here is what Boyd said to the group of journalists who travelled especially for the stand-up.
Q: Up against the Broncos, excited about facing your old mates?
A: Yeah, can't wait.
Q: That excited?
A: Yep.
Q: Did you watch them play last week?
A: No I didn't.
Q: What's the strategy going into the game?
A: We'll decide that on Wednesday I suppose.
Q: Happy to score another try, it was a good one?
A: Yeah, it was good, eh.
Q: Second one of the season, it's taken a while, you must be keen to be coming into form at the right time of the season.
A: No it was good.
Q: What are your thoughts on the way your team is going at the moment Darius?
A: Um, yeah, it was pretty good, eh.
Q: Are you fair dinkum?
A: Yeah.
The media would prefer an answer from Boyd littered with as many cliches as possible compared some mono-syllabic grunts out the side of his mouth, barely stopping to look at the camera or the journalist in his latest incident.
Boyd fans will again say that if he does not like answering question about the game he makes a living off then he doesn't have to.
Wrong.
He does, given he is not a rookie or a fringe first-grade player.
He is a high-profile representative star and as such he is a figurehead for the game and needs to start acting like it.
But after his latest childish effort it is time for NRL media and its fans to either start ignoring him and his opinions, if he has one on anything because we have never really found that out, because they are not worth the digging for when newsrooms are often operating understaffed.
Or, make him the target of an interview, stand-up, sound-bite at every possible moment to make him better that what he seemingly hates.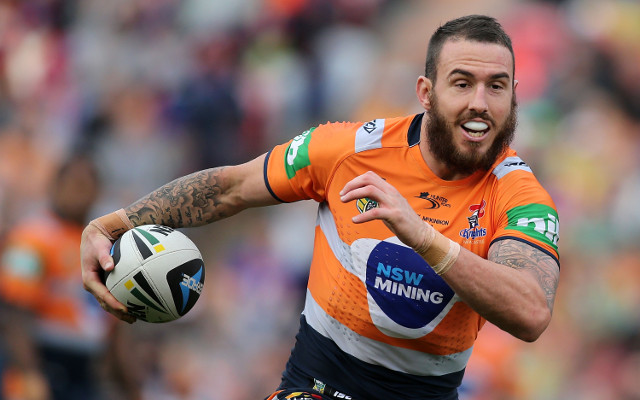 One has to question the motive for such behavior from Boyd?
Does he get back to his club level, see himself on the news and chuckle to his mates "look what I made the TV do".
If you don't want to speak to the media be polite, "sorry I'd rather not say anything at the moment".
Sure that "no comment" will be reported in the usual manner that either he did not know of Bennett's departure of he club, did know but did not want to talk about it publicly, or was too hungover from his "great Origin win".
But at least Boyd will have handled the situation that does not portray himself, the Knights, the Maroons and the NRL as a competition that does not understand the symbiotic relationship it has with the media and its fans.
Young players coming into the NRL can be excused for not giving the best interviews, where every syllable is dripping in journalistic gold which can help make a great story that people will read.
But Boyd has been around the block, he's 28, he's played in the top grade since 2006, he knows how this works now so ignorance or nerves cannot be an excuse.
fantaix concedes that not all NRL players are Neanderthal-like with their behaviour in front of a dictaphone or mic, and that some go out of their way to get back to journalists and give as open and honest answers to questioning as possible.
Which is not easy given how much spin is directed at players when they are media trained.
But it is still better than no answers at all that damage the reputation, profile and marketability of the NRL not just in hardcore fans, but more importantly those still making up their minds about the code who see Boyd's side-stepping effort as only another incident that reaffirms long-held stereotypes.