---
Hazard has lofty ambitions about where the Belgian is heading with the Blues.
After a brilliant 18 months with Chelsea, Eden Hazard says he wants to be as good as Barcelona and Real Madrid superstars Lionel Messi and Cristiano Ronaldo.
The Belgium international has been widely considered as the Blues' best player this season and is among the top talents in the Premier League currently.
However, with Hazard still only being 23-years-old the winger has clear ambitions about where he wants to be in the future.
"I realise that I can compete with Messi and Ronaldo in the near future, if I put in some more effort," the Belgian told Het Laatste Nieuws.
"I don't know if I will ever reach their level. It'll be hard, they have incredible stats, but I accept the challenge. Of course I want to be the best in the world.
"Since I'm here at Chelsea I've become more aware of my qualities, I guess. Before I knew I was a good player but not one of the better players in the world.
"I realised that, if I want to be among the best in the world, I'll have to perform consistently, game in, game out.
"I'm now important for the team, I give good passes, I score more goals and Chelsea is performing well. Everyone expects more from me. I hear it every day. Maybe I need these little comments, too."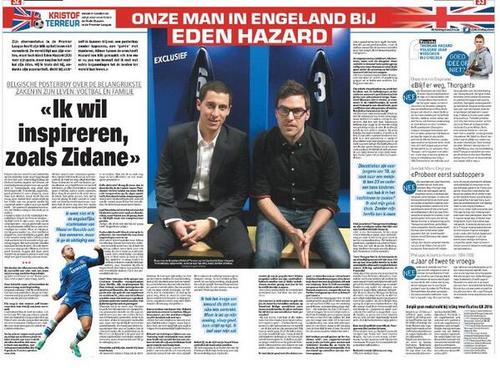 Since arriving at Stamford Bridge in the summer of 2012 in a £32m transfer from Lille, Hazard has played 92 matches in all competitions – scoring 24 goals and providing 32 assists.
The attacking midfielder also helped the west London club to Europa League triumph last term and was among the six man shortlist for the 2013 PFA Player of the Year award.
See who are the top 10 best Chelsea players of all time.
Read more Chelsea fc news.