---
That mask Fabregas was wearing wasn't large enough to cover hide the shame on his face as he made the biggest mistake of his season.
SEE MORE:
West Brom 3-0 Chelsea video highlights: Fabregas red card main talking point in bad-tempered contest
Video: Chelsea's John Terry gifts West Brom penalty and second goal but escapes red card despite dreadful slide tackle
Video: Cesc Fabregas red card – Chelsea star sent off v West Bromwich Albion for kicking ball at opponent's head
As exciting as it is to see football players get in each others faces and make fools of themselves on the field, Cesc Fabregas was the real goat of Chelsea's 3-0 loss against West Bromwich Albion.
After Diego Costa drew a yellow card a small skirmish broke out between the two sides which led to Fabregas to make the inexplicable decision to kick the ball from down the pitch right at a West Brom player's head – promptly earning a red card and leaving Chelsea with only 10 players for the rest of the first half. That would go on to set the tone in the second half as West Brom took advantage of Chelsea's offensive deficiencies to retain possession of the ball and score two game-sealing goals.
Now Fabregas is suspended for Chelsea's season final AND for the first two games of the 2015-16 season. Stupidity, thy name is Cesc Febregas.
Here are the player ratings for Chelsea's loss to West Bromwich Albion: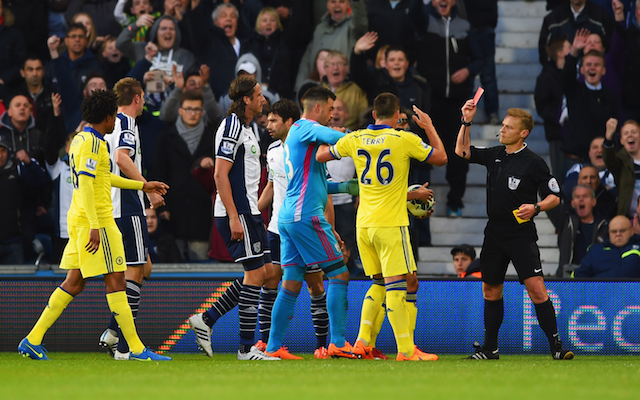 10. Cesc Fabregas, Midfielder
What in the world was Fabregas thinking? At any rate what happened was doubly-unfortunate since he was actually playing alright before that epic brain fart.
(Though you've got to admit, that was a pretty impressive kick from a long distance…)
9. Diego Costa, Forward
In most weeks this list would be reversed but Chelsea's leading scorer was nowhere to be found except when something terrible was happening to the club. A yellow card preceded the Fabregas gaffe and by the 64′ mark Jose Mourinho had seen enough of Costa's incompetence and had him substituted.