---
We've heard a lot about 'expected goals', or xG in recent times, and it's an often misunderstood concept.
Obviously, it will always be the actual goals that decide games, but xG is a useful measure for showing the quality of chances a team or player is getting, and if they're making the most of them, which can be judged if they're scoring above or below they're expected amount.
Using this data, Jake Osgathorpe of Infogol has analysed a number of the transfer deals from the summer just gone, in an attempt to work out who might have been the best value for money signing.
Chelsea fans will be pleased to see that their new striker Timo Werner ranks highly in terms of players brought in by Premier League clubs, which should set the Blues up well for what they hope is going to be a stronger title challenge this term.
As Osgathorpe notes, Werner managed a 0.72 xG/avg per game for RB Leipzig last season, and did well on expected assists too, with 0.31 xA/avg per game.
For comparison, you can see the graphic above for how other Chelsea players fared in that department last season.
Osgathorpe also names Liverpool's new midfield playmaker Thiago Alcantara as one to watch in this department, whilst also naming Newcastle's free agent signing of Ryan Fraser as great value-for-money.
In terms of players that clubs might have done well to keep hold of, could Arsenal have lost a bit of a gem in Emiliano Martinez?
The Argentine has joined Aston Villa after a strong run in the Arsenal team last term, when he filled in superbly for Bernd Leno, showing he must have been up there with the finest backup 'keepers in the country.
The graphic below, using xG to show how goalkeepers performed in relation to the quality of chances they faced, shows Martinez to be one of the biggest over-performers…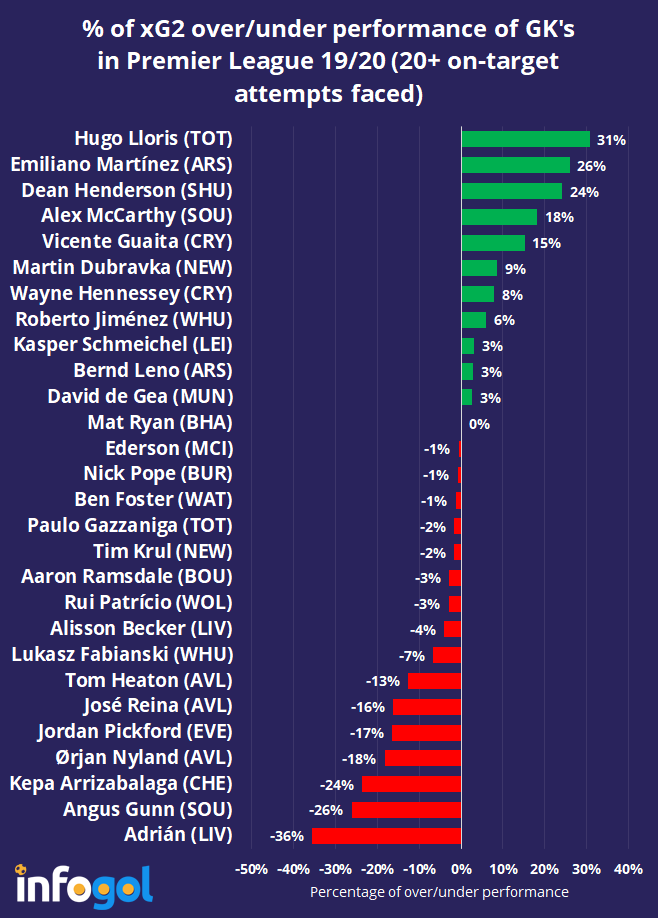 Arsenal perhaps couldn't offer Martinez the game time he wanted, but the recent shocking form of Adrian – also shown in the graphic above – is a reminder of just how important it is to have quality on the bench in case your first-choice 'keeper does pick up an injury or suspension.
Villa have done well to snap Martinez up, and it looks to have been a solid summer for them overall as Osgathorpe also tips Ross Barkley to be a fine addition based on his xG stats.
Time will tell if these metrics prove to be an accurate predictor of how these players perform, but it's certainly interesting to get such detailed data on players before getting a chance to see them play properly.