---
Ivanovic reveals that the Uruguayan has apologised.
For the first time since a biting incident, Chelsea defender Branislav Ivanovic and Liverpool's Luis Suarez met when the two sides played in the Premier League on December 29.
Suarez was handed a 10 match ban towards the end of last season after footage emerged showing the Uruguay international biting Ivanovic.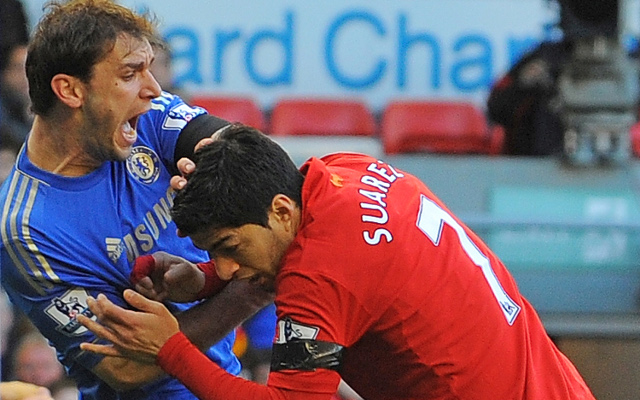 It was thought there would be some animosity between the two parties during this latest meeting – as there was when the South American first faced Manchester United's Patrice Evra after being found guilty of racially abusing the Frenchman – but the Blues man says that all is forgotten.
"Much has been written about when I was bitten by him," the Serbian was quoted by Sky Sports.
"Now we have met, greeted, but we all solved [everything] immediately after the previous match.
"Back then he called me by phone almost immediately."
Since arriving in England in January 2011 from Ajax, Suarez's brilliance on the pitch has been tarnished with controversial moments.
After the Evra incident the 26-year-old was handed an eight match ban and it means that in total the forward has sat out for 18 games for reasons that were totally avoidable.
However, with Suarez having already scored an impressive 20 league goals this term – despite sitting out five games at the start of the campaign due to the ban – manager Brendan Rodgers has tried to be careful in how the Uruguayan is treated.
Yet if the Reds don't reach the Champions League places this term (and perhaps even if they do) the attacker is likely to leave Anfield, with Real Madrid seemingly the most probable destination.
How Sturridge will fit back into the Liverpool team.
Read more Liverpool fc news.