---
Flying winger stars as the Canberra Raiders thrash the Newcastle Knights.
Canberra Raiders winger Blake Ferguson continued his remarkable transformation this NRL season, in scoring a hat-trick the home side to a 30-point victory against Newcastle.
After being stood down earlier this year due to off-field issues, Ferguson has returned to the field a changed man as he tore the Knights to pieces in attack in the 44-14 victory at Canberra Stadium.
The Raiders continue to be a side capable of anything this NRL season after storming back from an early 14-0 deficit to score an incredible 44 points unanswered
Canberra had a field day on their right-edge with Sandor Earl also bagging three tries in the demolition job.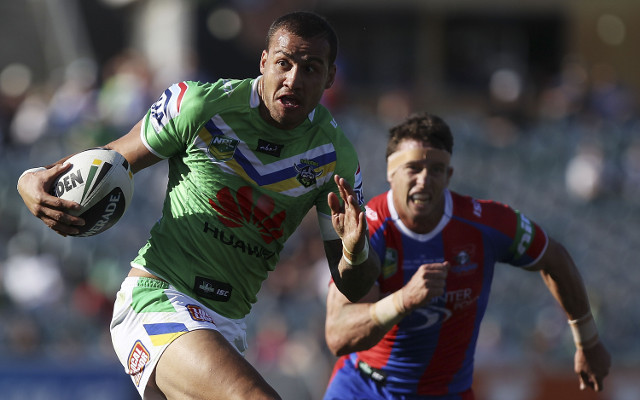 Thanks to cheap turnovers by the home side, the Knights were on the board first through James McManus and Robbie Rochow and a penalty goal to Kurt Gidley.
The Raiders began the comeback when Earl scored his first off back-to-back sets before Ferguson bagged his first off a brilliant 55 metre solo effort.
Earl's second, scored in the 39th minute,  had all but evaporated the Knight's lead at half-time as they hung on to their advantage 14-12.
From there it was all one-way traffic as the Raiders showed they can be one of the most entertaining and dangerous sides in the competition when they want to be.
After a sloppy start, Raiders five-eighth Terry Campese was instrumental to his side's fortunes in the second half in laying on three tries to Ferguson, Edric Lee and Jack Wighton.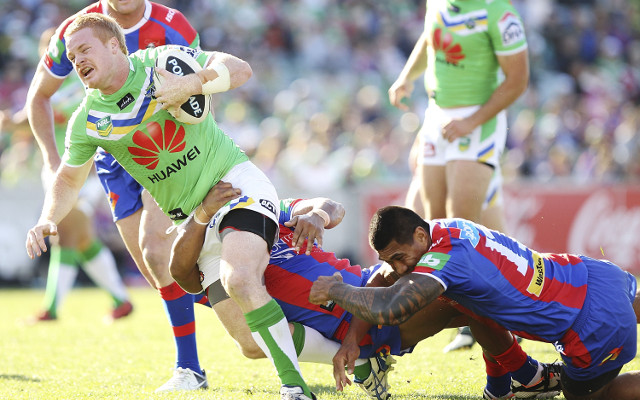 Newcastle were simple sloppy in defence missing twice as many tackles as the Raiders, while their forwards failed to win the ruck area as the Canberra side ran for more than 500 metres more.
Canberra's fifth win for the year puts them back inside the top eight and is their fourth in five weeks as they look to continue their momentum next weekend when they tackle the Sharks at Toyota Stadium.
Newcastle maintain their place in the top half of the ladder but they will need to improve and fast as they face the tough draw of Canterbury, New Zealand and South Sydney over the next three weeks.