---
Reports from Spain are becoming contradictory.
Two Spanish dailys Sport and Mundo Deportivo are going head-to-head over what is happening with the goalkeeper situations at both Barcelona and Chelsea.
Sport led with the story that Blues boss Jose Mourinho was becoming increasingly unconvinced with Petr Cech's ability and that the 50-year-old wants to bring in Victor Valdes as a replacement.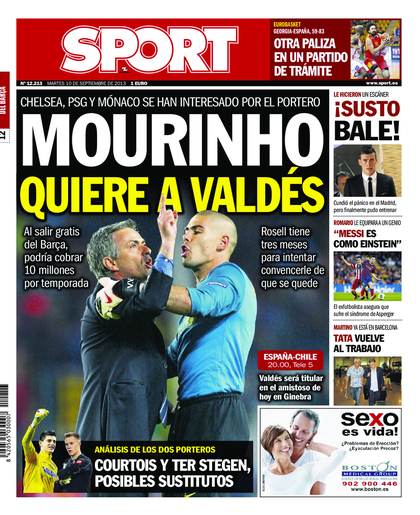 Valdes' current deal at the Nou Camp expires at the end of this season and the stopper has already confirmed that the Spaniard will be leaving in the summer of 2014.
"I consider that my cycle as a Barcelona player will come to an end when my current contract expires in 2014," the 'keeper was quoted by BBC Sport.
"I could see myself playing in other leagues, getting to know something different and looking for different sources of motivation."
The publication says that Barca are lining up either Borussia Monchengladbach starlet Marc-Andre ter Stegen or Blues ace Thibaut Courtois as a replacement.
However, Mundo Deportivo have led with the line that it is in fact Cech that the Catalans see as the ideal successor for Valdes and that Courtois will return as the No.1 at Stamford Bridge.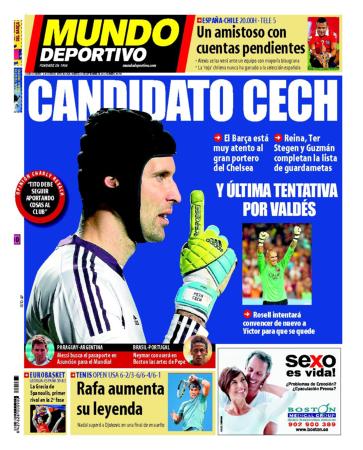 The young Belgian is currently playing the 21-year-old's third season on-loan at Atletico Madrid and impressive previous campaigns at the Vicente Calderon Stadium, will see Cech ousted from the position the Czech Republic international has held since 2004.
Currently the only thing that is fairly certain is that Valdes won't be playing in Catalonia next term, with French publication Le10Sport strongly linking the 'keeper with a switch to AS Monaco.
It seems to be a case of watch this space as Barca try and find a suitable man between the posts for the first time since 2002 and Chelsea decide which of the stoppers on offer they actually want.
Melanggar Chelsea rumor transfer dan berita dalam Bahasa Indonesia dengan fanatix ID!