---
Spanish Champions Barcelona want Wayne Rooney, and will offer Thiago, David Vila and cash as bait.
Catalan newspaper Sport claims that Barcelona will offer Manchester United Thiago, David Villa, and €4m for unhappy England man Wayne Rooney, according to Sport Witness.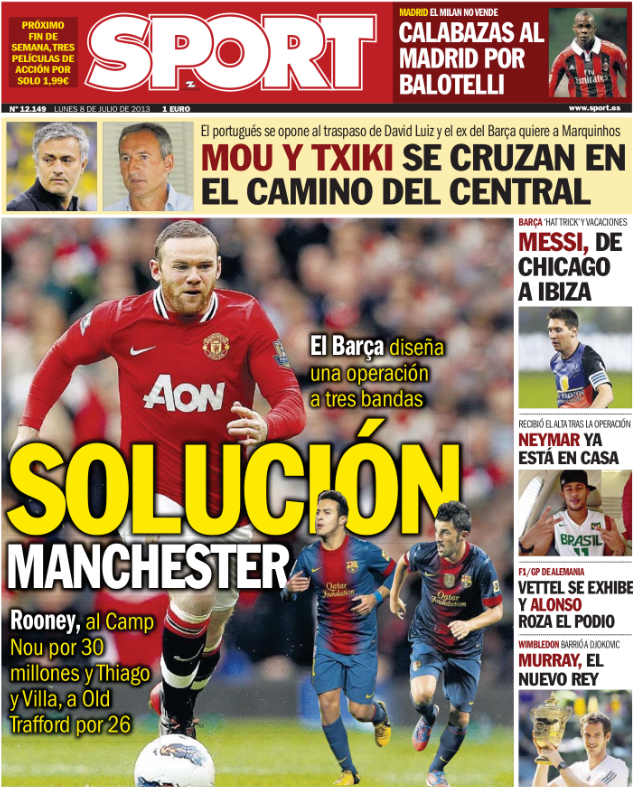 Manchester United have been closely following Thiago all summer, and a £17m deal is said to be close for the classy playmaker who scored a hat-trick for the Spanish U21s in last month's European Championship final.
The youngster is keen on playing the first-team football, which Man United can offer him in the run-up to next summer's World Cup. Despite his unquestionable talent, the son of Brazilian World Cup winner Mazinho is behind Xavi, Andres Iniesta, Sergio Busquets and Cesc Fabregas in Barcelona's midfield pecking order at present.
Barcelona value Rooney at €30m, Thiago at €18m, and David Villa at €8m, so by adding €4m to the deal, the Catalan giants believe they are offering the Red Devils a fair proposal.
Although new United boss David Moyes says he wants to keep Rooney at Old Trafford, the Scot may be keen to sanction the move if it hurries along the Thiago deal. Rooney handed in a transfer request at the end of last season, and has been linked with a number of top European clubs. David Villa could be seen as a suitable replacement, as he can play anywhere along the forward line, and would not expect to play in every match.
Barcelona have signed Confederations Cup hero Neymar already this year, and adding Rooney to an already formidable line-up would leave the rest of Europe trembling.
Here's how Barcelona and United could potentially line-up if this transfer mega-deal were to go through:
Barcelona
Man United
The benches of both these sides looks almost equally as impressive, including the likes of Pedro, Fabregas and Mascherano for Barcelona, and Valencia, Giggs and Hernandez for United.
In 2009, Barcelona completed an enormous swap-deal with Inter Milan for Zlatan Ibrahimovic, offering Samuel Eto'o and £40 million.