---
This is quite unbelievable, as Qatar boss claims he voted for Ronaldo as a favour to Sepp Blatter…
Cristiano Ronaldo won the Ballon D'or last night, beating off competition from Lionel Messi and Franck Ribery to earn the crown of World Player of the Year.
It appears however, that political influences behind the vote may have swayed it in the Portuguese's favour.
Qatar manager Al Zarraa Fahad has claimed he was asked to vote for Cristiano Ronaldo, as a favour to FIFA boss Sepp Blatter.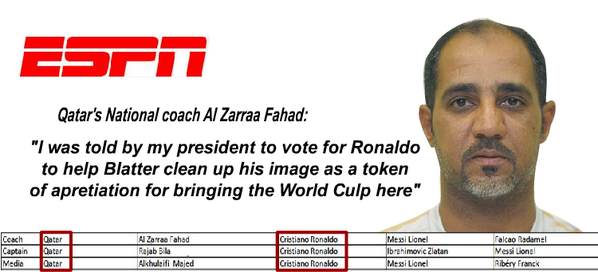 As this graphic from ESPN displays, the Qatar captain and media also voted for Ronaldo.
Blatter and Ronaldo had a public dispute at the end of the last year, after Blatter claimed he preferred Lionel Messi to the Real Madrid attacker.
Here's the video where Blatter offended Ronaldo:
Although they have now reportedly made up, it seems as though Blatter was keen for Ronaldo to win the Ballon D'or to dismiss any suspicions of favouritism from FIFA to Messi.
Furthermore, the voting for the Ballon D'or was extended until after Ronaldo's fantastic performance for Portugal in the World Cup play-off victory over Sweden, which only increases suspicions over the validity of the result.
Inadvertently, it appears FIFA has actively favoured Ronaldo to create an impression of fairness and neutrality, that perhaps doesn't exist among the organisation's inner sanctions.