---
Though he was one of the key players in Aston Villa's run to the FA Cup Final, Christian Benteke was invisible in the second half.
SEE MORE:
(Video) Arsenal 4-0 Aston Villa FA Cup final highlights: Gunners secure easy win to retain trophy
Sepp Blatter scoffs at suggestion that he may be arrested
Arsene Wenger hoping two Arsenal stars stay next season
If Christian Benteke was looking for a big payday during the transfer period he certainly didn't do anything to prove that he earned it today. On the biggest stage, Aston Villa's biggest star was a non-factor as the club was anemic on offense and a mess defensively.
Despite getting deep into Arsenal's territory on several occasions, Benteke just wasn't that X-Factor that made him one of the Premier League's most dominant players for the month of April. Instead he looked more like the lost star back when Paul Lambert was still running the show.
When the star of the team is a non-factor, that generally means that someone is going to have to step up in a major way to fill the void. And for Aston Villa, they just didn't have enough talent to make up for Benteke's struggles. Now they're FA Cup runner-ups and poised to have their roster plundered in the transfer window. A doubly-bitter loss indeed for the Villans.
Here is a look at the Aston Villa player ratings from the FA Cup final, ranking them from worst to best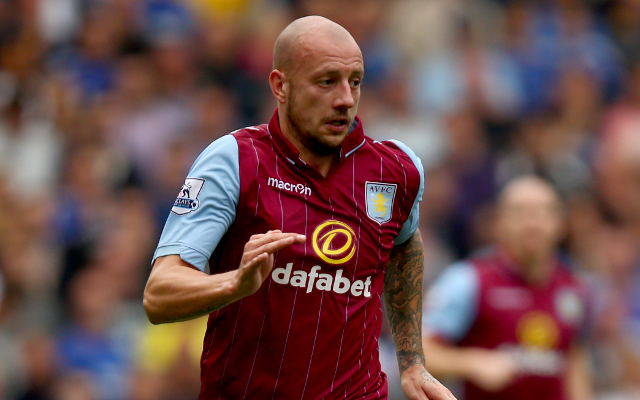 Alan Hutton, Defender – 1/10
How in the world Hutton stayed on the field after his yellow card AND being one of the prime suspects on that fateful first goal, one may never know. But Hutton was a liability on defense for the entire game and Tim Sherwood's decision to keep him in may have cost the team more than just wasted minutes.