---
Olympian through to the semi-finals but might not take any further part in event.
Former 100m world record holder Asafa Powell is on the brink of pulling out from the Stawell Gift in Australia, after complaining of hamstring tightness.
Powell was the biggest draw-card for the annual handicap races, which brings some of the best professional and amateur sprinters from around the world to country Victoria.
Leading into the event, the Jamaican said he was not at 100 per cent fitness given the trip to Australia was early in the athletics season and he was still getting over the groin problems that dogged him for much of 2012.
Powell felt his hamstring before his heat, but he managed to start before running within himself to cross the line third in a time of 12.24 seconds for the 120m.
"We have been having some issues with it over the last few days," Powell said.
"I had a good practice session yesterday but in the warm-up today it felt real tight.
"At one point I was saying I didn't want to risk it but everyone seemed so excited to see me run so I just wanted to see what I could do.
"The hammy is giving me some problems. It wouldn't be fair to me to go out there and push it.
"From the 30m the leg started to get real tight. I came out of the drive phase to start running but I wasn't running 100 per cent. I was being very cautious.
"I really wanted to give the crowd the performance today, I tried my best but I have a long season ahead of me so I have to be mindful of that as well."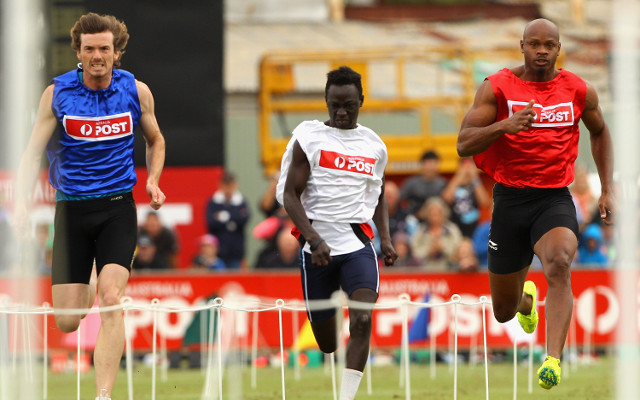 If Powell does pull out he will then be banned from entering the World Challenge event at Albert Park in Melbourne, as he will have violated Victorian Athletics rules.
Under those rules, Powell will be prevented from competing in the state for 28 days for failing to finish an event, however, that length of time would be halved due to medical proof of his injury.
Either punishment is not conducive for Powell, with his management team keeping the door open slightly for him to make a surprise appearance in the semi-finals.