---
Reports are Wenger wants to turn the Chilean into a No.9.
There was big news for Arsenal in the transfer market on Thursday as they landed long-term target Alexis Sanchez from Barcelona in a £35m deal.
The Chilean greatly impressed at the 2014 World Cup in Brazil and despite being frustrated at a lack of game time at the Nou Camp following a 2011 switch from Udinese, last season the 25-year-old scored an impressive 19 La Liga goals from the right wing.
Yet although Sanchez currently likes to operate from the flank, Gunners manager Arsene Wenger wants to work his magic once more and convert the South American to a centre forward.
It's been well reported that the Frenchman has succeeded with this tactic before, taking wingers in Thierry Henry and Robin van Persie and converting them into world-class strikers.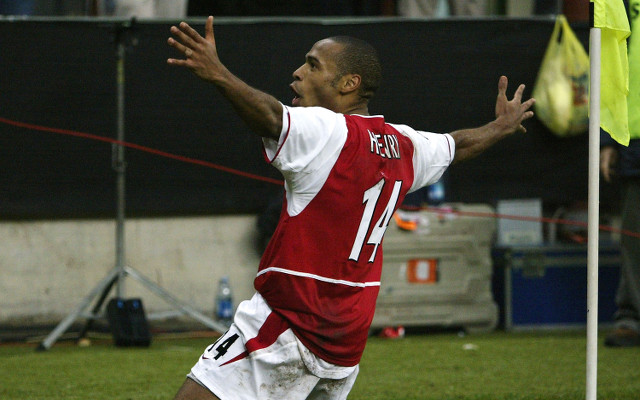 The similarities with Henry are probably more prominent, as the former France international was a relatively expensive buy back in 1999 when he cost £11m from Juventus.
Like Sanchez the attacker arrived on the back of a successful World Cup tournament – having won it with his nation – and Wenger quickly went to work into turning the striker into arguably the greatest ever Premier League player.
Unlike other successful forwards in the English top tier such as Alan Shearer and Ruud van Nistelrooy, Henry didn't rely on physicality and instead opted for pace and trickery.
Sanchez will do something similar, and although the Chilean possesses a small frame and deft touch, his stocky build means that the Chilean is perfectly capable of shrugging the strongest Premier League defenders off the ball. His exceptional work rate will ensure that the opposition back line is under constant pressure.
The other advantage of taking attacking midfielders and making them into strikers is their array of goals tends to be more varied, making them difficult to defend against as they score from many positions.
If Sanchez does have a weakness, it is only that he is very one-footed. Last season in La Liga, he took only five shots with his left foot – and 61 with his right.
However, given all his other qualities, it seems as if Wenger may have made another fine transfer in acquiring Sanchez – and the wily French coach's pedigree indicates he could well turn the former Barca star into one of the best players on the planet.
READ MORE: Arsenal FC news.