---
The enigmatic striker will inject goals, aggression and pure magic back into Liverpool's side…
Liverpool forward Luis Suarez has finally completed his mammoth ten game suspension, and is expected to return against Manchester United in the League Cup on Wednesday evening.
It seems a life time ago that the football world went into overdrive following Suarez's bite on Chelsea defender Branislav Ivanovic – which was the latest in a string of controversial incidents that have surrounded the forward his entire career.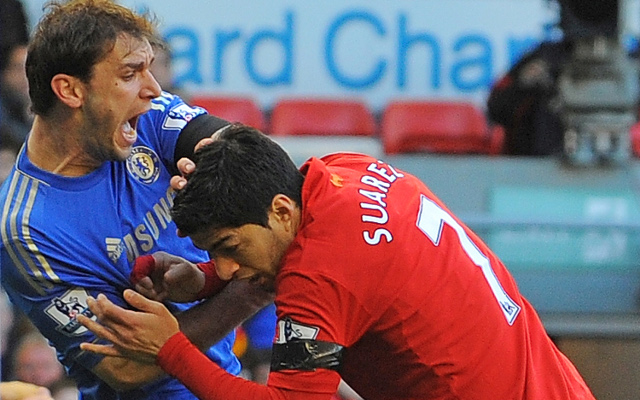 Not even the most biased Reds fans could support the 26-year-old Uruguayan, who was rightly banned for a whopping ten matches.
Although Suarez was undoubtedly Liverpool's best player last season, they strangely have hardly missed him at all…
In the matches he's sat out, Liverpool have won seven, drawn two, and lost only once. Daniel Sturridge has scored the goals, and mercurial Brazilian Coutinho has pulled the strings in the final third, orchestrating Liverpool's attack with consummate ease.
With Coutinho out injured though for the next six weeks, the Reds suffered their solitary defeat at home to Southampton this weekend gone, and looked bereft of ideas when in possession. With the 21-year-old out injured, Suarez's return could not have come sooner.
Thankfully for them – Brendan Rodgers can pick him once again…
Here's how Liverpool could line up during Coutinho's absence now Suarez has returned:
Suarez's new position:
With Sturridge on fire in Suarez's absence, he has essentially made the centre-forward position his own. The England forward proved at Chelsea that he is ineffectual from the left, and it would be disastrous for the striker's confidence and probably his form if he was moved out to the flank after bagging five goals already this season.
This means that Rodgers will accommodate Suarez by essentially playing him in Coutinho's no.10 position. Suarez has more than enough creative and technical ability to play a roaming role behind Sturridge, where he can regularly play the England man through on goal, and link up with the midfielders, too. Suarez will be eager to be involved in everything Liverpool create on his return, and a slightly deeper position will allow him to see more of the ball, and have a more noticeable, immediate impact on matches.
The striker will have to adjust his game though. Last season Suarez loved taking on defenders, regularly nutmegging and humiliating opponents, but regularly losing the ball, too…
Coutinho's value was in his ability to retain the ball and choose the right time to play the killer pass. Suarez will have to tame his directness in this position, and be prepared to use his teammates rather than attempting the pieces of individual brilliance he is more than capable of.
Although this role sounds like it tempers Suarez's creative ability, he will still essentially be the focal point of the team, and the key creative influence until Coutinho returns from injury.
Suarez's goals:
This season, despite winning their first three league matches, Liverpool have struggled for goals. They have only scored five, with Sturridge bagging four of them.
The Uruguayan bagged 30 in all competitions last season, and will immediately inject a real goal threat into the side, that Coutinho arguably didn't offer.
With both him and Sturridge in the side, Liverpool have two top class goalscorers in combination, and his return will ease the scoring burden that is perhaps beginning to rest heavily on the England forward's shoulders.
Suarez's aggression: 
Against Southampton, Liverpool arguably lacked the bite (no pun intended) needed to drag themselves back into the game when they were playing poorly.
The team knew they were below par, and it was written all over their faces. With Steven Gerrard playing a deeper more conservative role, the Reds needed a player full of energy willing to chase down every ball, fight for every 50/50, and claw the Reds back into the game.
For all his misdemeanour's, no one can ever accuse Suarez of lacking commitment to the on-field cause. His tenacity and temper is one of his great strengths, and against United on Wednesday, expect to see a fireball of energy desperate to prove himself to the football world once again.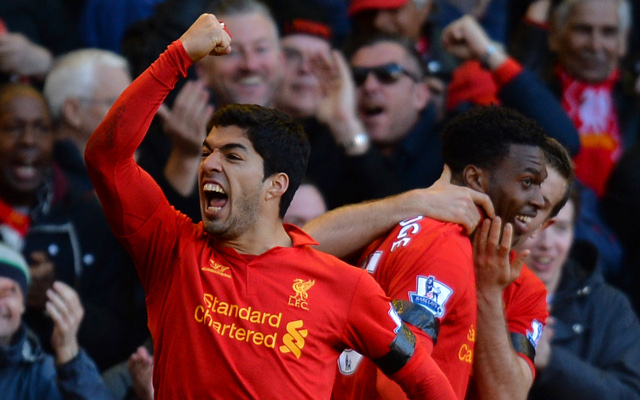 Suarez's magic:
For as impressive as Sturridge has been for Liverpool in Suarez's absence – he doesn't posses the capability to produce the jaw-dropping pieces of individual genius that Suarez and only a few other players in world football are capable of.
Sturridge relies on good service, and without it, he can go missing in matches. Suarez on the other hand can do nothing for half an hour, and then take on three players and score, or put a freekick into the top corner.
Remember Suarez's hattrick against Norwich for example, or his beautiful goal against Newcastle last term: