---
FA and BBC in match report blunders.
Apparently no-one can tell the difference between Kieran Gibbs and Alex Oxlade-Chamberlain.
Read more Arsenal news here!
Last month, Arsenal successfully ensured that neither Gibbs nor the Ox were suspended after referee Andre Marriner sent off the left back rather than the England winger in the 4-0 defeat at Chelsea.
If that one instance of mistaken identity wasn't enough, the governing body have again confused the pair in their match report of yesterday's FA Cup semi-final, claiming that Gibbs instead of Chamberlain set-up Per Mertesacker's late equaliser.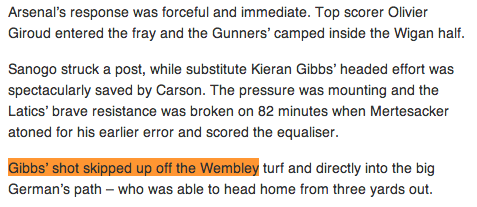 SOURCE: TheFA.com
Amazingly, the BBC also made the same mistake in their official match report: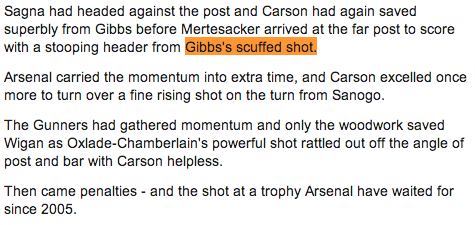 SOURCE: BBC
This episode raises some important questions, specifically:
1) Are the pair swapping shirts just to screw with us?
2) Should it be 'Gibbs" or 'Gibbs's"?
I genuinely don't know the answer to either.