---
Dutchman has seen the striker change over the past six months.
AC Milan midfielder Nigel De Jong has described the change he has seen in striker Mario Balotelli since he joined the Rossoneri in January.
The duo spent time together at Manchester City after the striker's departure from Inter, but with De Jong sealing a switch to San Siro last summer, Balotelli swiftly followed in January to join the club he supported as a child.
The Dutch midfielder believes that that has been a factor in the Italian international's improvement over the past six months, as he has been in the perfect role to witness his development both on and off the pitch.
Speaking to La Gazzetta dello Sport in an exclusive interview, the combative midfielder believes the 23-year-old has "completely changed" since returning home, and can only see him growing into an even better player over the years.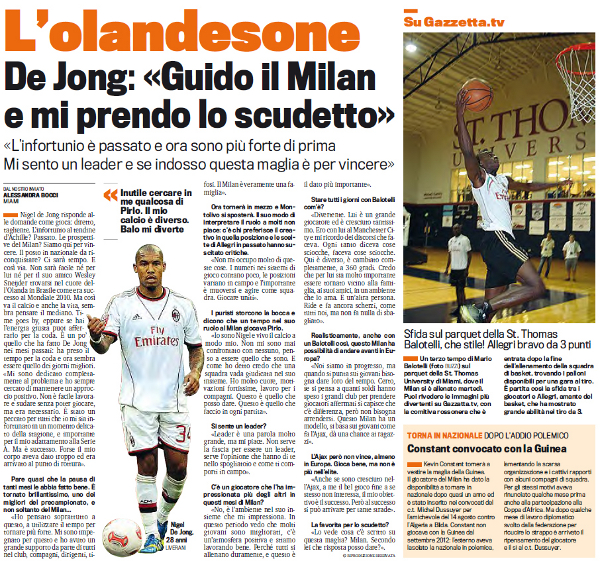 Image courtesy of La Gazzetta dello Sport.
"What is it like being with Balotelli every day? Entertaining. He is a great player and has grown a lot. I was with him at Manchester City and I remember the things he said. Every now and then he would say stupid things, do stupid things.
"Here it is different, he has changed completely – 360 degrees. I think for him it is very important to have returned close to his family, his friends, in an environment that he loves. He is another person. He laughs and still makes jokes – like the rest of us – but he does not do anything wrong," he added.
Having been placed at the centre of projects for both club and country, Balotelli has seemingly responded in the best possible way as he continues to establish himself as one of the best players in the world.
Balotelli scored 12 goals in almost as many games in Serie A last year, and he will be expected to lead the line in the new season and help the Rossoneri become competitive in the Champions League too.
However, De Jong was keen to stress that the former City striker is still young at 23, and along with the rest of the youthful squad at coach Massimiliano Allegri's disposal, they must given time to continue to grow.
"We are in progress, but when you focus on young players you need to give them time. Of course, if you think about how much money the big clubs have spent to take the established players you understand that there is a difference.
"However, we do not need to give up. This Milan has a model, based on young people, like Ajax does – it gives a chance to the kids," he said.
Having finished in third place last season, Milan will be desperate to compete with the likes of Juventus and Napoli for the Scudetto next season. Given Balotelli's increasing responsibility, De Jong believes the striker won't disappoint.