---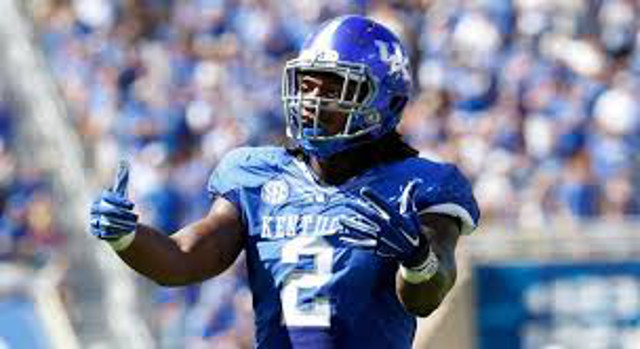 8. Atlanta Falcons – Bud Dupree, DE/OLB, Kentucky
The Falcons defense has been dreadful in the past few seasons and wasted quarterback Matt Ryan's prime years, but head coach Dan Quinn will look to change that after working wonders with the Seattle Seahawks. Dupree offers plenty of upside as a pass rusher, and he has no character concerns.
9. New York Giants – Brandon Scherff, T/G, Iowa
The Giants offensive line showed some improvement in 2014, but they will need to keep getting better as quarterback Eli Manning is close to the end of his career. The Giants have a hole at left guard, and they could upgrade at tackle. Scherff offers ability at both positions, but he is expected to start out at guard. General manager Jerry Reese has a history of wanting to keep the trenches strong too.
10. St. Louis Rams – Trae Waynes, CB, Michigan State
Waynes is the most complete cornerback in the draft, and the Rams selecting him would make their rising defense even more dangerous and likely elite down the road. While their defensive line was completed with the addition of Aaron Donald, they can instantly improve their pass defense by pairing Waynes with Janoris Jenkins.
11. Minnesota Vikings – Todd Gurley, RB, Georgia
The Vikings continue to insist that they will not trade Adrian Peterson, but the star running back is clearly disgruntled with his current place and may eventually make his team cave in to a trade demand. Even if he is kept, it would not hurt the Vikings to draft his eventual replacement as he is now 30 years old. Gurley is recovering from a torn ACL, but he was a Heisman frontrunner before his injury and would make an excellent long-term option.
12. Cleveland Browns – Danny Shelton, NT, Washington
The Browns could use an upgrade at nose tackle, as they struggled with their run defense as Phil Taylor has disappointed while having an injury history.